Air Conditioning Repair in Mooresville, NC
Your home's heating, ventilation, and air conditioning (HVAC) system makes it very comfortable on muggy summer days and cold winter nights in the Mooresville, NC area, so make sure you're getting the best air conditioning repairs available! Like all mechanical systems, your HVAC system needs regular maintenance and occasional repairs to operate efficiently.
How AC Maintenance Keeps Your HVAC System Working Well
Timely and affordable air conditioning maintenance from Performance Air Conditioning & Heating, LLC each spring can help to ensure your home stays cool and comfortable on even the hottest summer days. Regular inspection and maintenance help to make your HVAC unit last longer. It also helps it run more efficiently and keep your utility bills lower.
Commonly Done Air Conditioning Maintenance
Some of the most commonly done air conditioning maintenance includes:
Changing the filter
Fixing coolant leaks
Unclogging and cleaning a drain line
Replacing bad fuses and capacitors
Clean and replace evaporator and condenser coils
A skilled and experienced HVAC services technician can inspect your system for common issues that simple maintenance can fix. A well-equipped mobile service should have the diagnostic equipment and tool to help a professional HVAC technician perform timely and effective maintenance.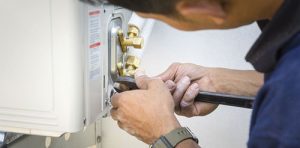 Common AC Repair Issues
Preventive maintenance helps limit the potential for major AC repair work on your HVAC system. But some major systems might need extensive repairs. The older your system, the more likely a part could break or worn components might need to be replaced.
A compressor that does not work correctly or leaks refrigerant will not enable the air conditioning to work. Replacing it and the refrigerant can make your AC unit keep your home as cool as possible.
A bad blower motor might just need minor repairs or need to be replaced. Corrosion could cause some parts to rust and break. Badly clogged drains or corroded breakers with bad fuses might cause a system failure.
Several parts and systems make your air conditioner work efficiently. Regular maintenance and occasional repairs will help you get the best service and return on your investment.
When To Schedule HVAC Maintenance
You should have your air conditioner installation inspected and maintained at least once per year and preferably twice. The transitional seasons are always the best for timely maintenance and light repairs as needed.
An inspection by a qualified professional technician might reveal damaged air conditioning parts that need to be replaced. If your HVAC system is down for a short time while repairs are done, the temperate spring and fall seasons help maintain your comfort.
A well-equipped service vehicle carries the most commonly used small parts. If something large or unusual needs a replacement, there might be a short delay awaiting its arrival. You do not want that to happen during the hot summer months or cold winter weather.
Get Efficient and Affordable Air Conditioner Maintenance
The experienced technicians at Performance Air Conditioning & Heating in Mooresville, North Carolina, for HVAC inspections, seasonal tune-ups, and routine maintenance. We also do quality AC repair services. Our well-equipped service vehicles help us get your system working its best right away.
You can contact us online or call 704-799-3245 to schedule HVAC air conditioning maintenance and repair services. We do great work at affordable rates so that you can say comfortable in your family home.